Rafting on the Hornád near Košice
You will spend a day by water, paddling an interesting section of the river from Družstevná pri Hornáde to Košice. We start off by Čarda restaurant, go on to an undemanding section with smaller rips and views of surrounding countryside. At the arrival in Košice you will enjoy adrenaline crossing of rips under Ťahanovce bridge. Rafting ends in our boathouse in Košice, where you can change your clothes. The paddled section is suitable also for families with smaller children (children older than 3 can go on the water).
Raft is controlled by an experienced instructor (guide) during paddling trip, so you do not need to worry about your safety.
| | |
| --- | --- |
| Target group: | Rafting for everybody, suitable also for families with children |
| Section to be paddled: | Družstevná pri Hornáde - boathouse Košice, Anička |
| Difficulty: | Easy |
| Length and duration: | 8km - circa 1.5 hour |
| Limitations: | can be paddled all year round |
| What to bring: | swimsuit, T-shirt, dry clothes to change (after paddling trip it is possible to change in our boathouse our car will transfer the clothes) and good mood |
| Price includes: | Seat in raft, equipment (paddle, helmet, swimming jacket /PFD/), instructor, transfer of raft, changing room |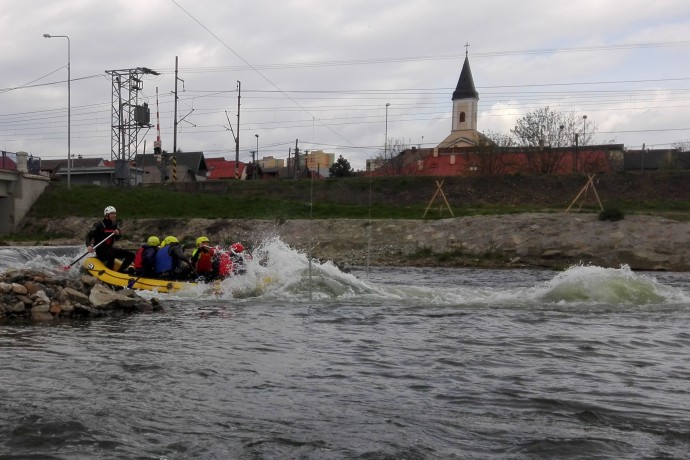 Price
15€/person
Number of people: 5-7
Transfer of to starting point is possible to manage for 1€/person.
Dates 2018
May
20.5. - 10:00
June
10.6. - 10:00
23.6. - 13:00
July
1.7. - 10:00
28.7. - 10:00
August
4.8. - 10:00
19.8. - 10:00
More dates will be published according to the interest, you can choose your own date too.
Orders
Tel.: 0949 422 835
E-mail: rieku@splavujeme.sk
Everybody paddles at their own risk and their own liability; children below 18 at liability of their legal representatives.
Gallery