Night canoe orienteering race
The night canoe orienteering race has long history. The event had celebrated 45th year of organising. It is managed by Kamikse canoe club and the first year was held in 1972. Race happen at occasion of the Day of students and Day of fight for freedom and democracy, that is why it is happening in the middle of November (after 17th November).
Our instructors use to race there every year. This year not only one team was assembled. Our instructors (many of them are also members of the Kamikse canoe club) created one team which was named Splavujeme Elite and they raced under "our flag" and joined more teams which were mixed with other people.
Last year I was not racing because I had not felt as the winner. Our team took third place last year. Most of last year members would like to win this year, so again I decided to not race in the "winning" team. Few days before the event friends convinced me to race with them in recreation team, so I joined Ivka, Jan and Milos.
Our elite team was not complete a week before the race, but we managed to found the last member. The team was complete and ambitions were high (also the assumptions). But it is hard and quite long race where anything can happen and the speed is not the only thing that matters. Final team members of the elite team were Zuzka, Lubos, Adam and Feri.
We registred 5 days before the race, two days before the race prepared all things and helped with packing things that were needed for the organisation purpouses. In Saturday me, Maros and Danka left Kosice earlier so we can help with preparation before the race. Lubos, Adam and Feri left later, but they managed to come to starting point just in time.
There were some problems with registration before the start, but all involved people managed to solve them in time. Starting ceremony started at 2pm. The head of the race told us all the rules. All teams has 2 boats, the race is divided into two parts. During first one team have to find its card and remember position of the six tables. This part has mass start. The second part starts in the night, teams start one by one in opposite order as they finished first part. They have to found all the tables and mark the card on each of them.
About ten minutes later we could start boarding into canoe, kayaks and paddleboards. Paddleboards were racing for the first time at this race. We have to sort boats in a line (luckily Ruzin at that place is wide enough). Three, two, one, fire... and the race was started. I have some problems with seating in the canoe, so we (me and Milos) had not started good, but we managed to catch up delay. Milos, even though he was paddling first time in canoe, was paddling really good. Our Elite team was far away in front of us after first turn. We managed to found our card at the second table, but it took us some time because of steep hill where the card was located. We were not able to catch up our second canoe (Jan and Ivka) till the finish. Still we were paddling not so bad with our finish time 1 hour and 21 minutes. The elite team were much more better - 1 hour and 1 minute (they had beaten second team in the c2 mix category for more then 5 minutes, only one kayak team was faster for 5 seconds - only reason might be the Ukrainians could run faster to the finish - last 200m are on the ground).
After the first part we had refreshment, goulash, tea and some of us even few beers.
At about 5pm first team started the journey back to the starting point. My team has planned start at 6pm. The weather at that time was not so bad. It was already dark outside, but we can see at least something without the light (you can not really use lights, because you will help teams starting after you). First table (number six) we managed to found on first try. Then we had problems with finding table number 5. Neither the canoe from another team could help us. Weather rapidly changed and it was snowing, we can not see more than 10 meters with use of lights. Eventually we found it. Near the table 4 we catch up with Maros (he started before us, but Janka from their team cannot started second part of race, so he was paddling alone in the boat). 3rd and 2nd table were quite easy to spotted. Jan and Ivka helped us to find 3rd and 1st table and then we continued to the finish side by side. We landed near the finish line almost at once with two boats from other teams (they were starting about 30 minutes after us, so they were really fast). The first canoe from our Elite team was there, too.
And again, hot tea and some food was preapred for racers in the tent. During wainting for the results we bought some beers. At about half to 11pm the results were printed. The Elite team can start celebrating, they were about 8 seconds slower in the second part of the race than 2nd team, but they still were in a lead. In about 30 minutes the ceremony started. 1st place in c2 mix belonged to Splavujeme Elite team (Zuzka, Adam, Feri and Lubos), 2nd place belonged to Kamikse team (Danka, Branko, Fero and Dano) and 3rd place belonged to UPJS team (Zuzka, Peto, Fero and Palo). Other teams had no chance, time difference between 3rd and 4th team was half an hour!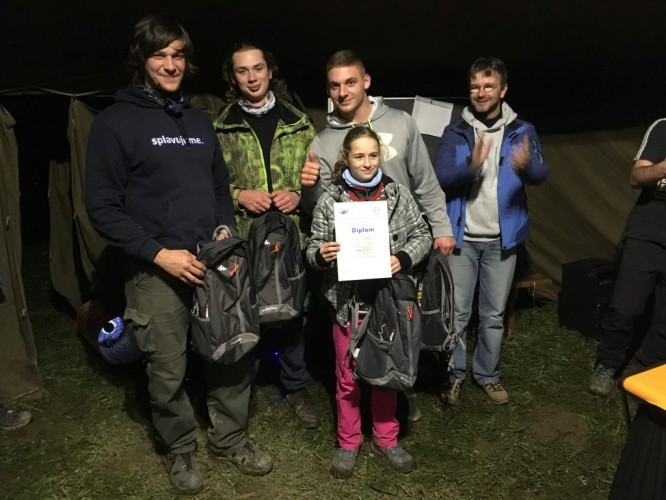 Some people after ceremony decided to go back home, I helped them with cars, because there were lot of mud and the ground was slippery. Some of us decided to stay there during the night, sleeping in the cottage, tents or in the cars. At the midnight traditional tunnel chant was organised.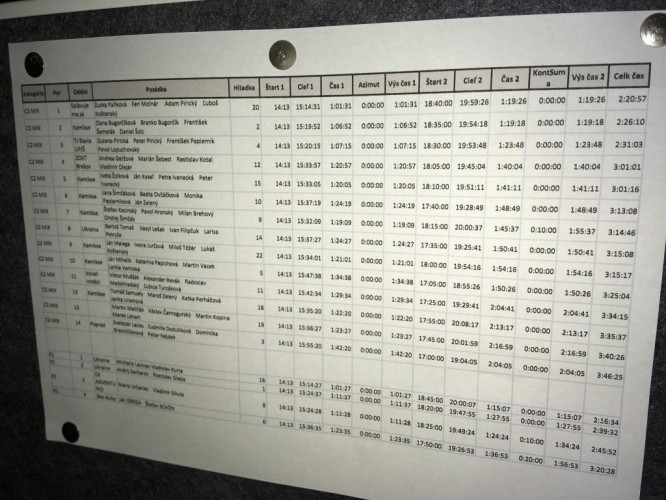 In the morning we had to help another cars to get from the cottage, pull out the motor boat from the water, pack the tent and other stuff. The canoe season was officialy closed, but do not worry, nevertheless we are still paddling. You can join us at the kayak pool sessions and learn the eskimo roll for example.
Lukas
Gallery